Full body and face £20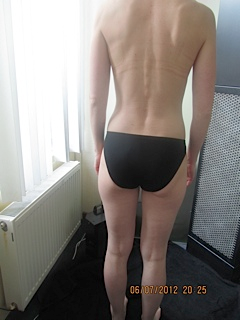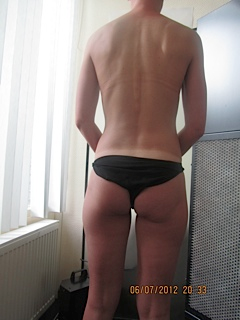 ---
When you arrive for your appointment I will ask you to complete a short questionnaire. This helps with assessing your skin and provides me with information that I will hold for future appointments.
You can be sprayed wearing whatever you feel most comfortable in and if you wish you can wear nothing at all (females only). If you feel more comfortable wearing something on top then I recommend bringing a small bandeau/bikini top, or rolling up a vest to cover the breast area. I prefer not to spray tan over a bra as straps can cause the tan to streak. While you change I prepare the most suitable percentage of Nouvatan for your skin ranging from a subtle 6% shade of tan right through to a dark 20%. When you are ready you stand in the spray booth where I apply a barrier cream to the driest areas of your body...namely hands, elbows, knees and around the ankle. At this point please advise me of any areas you are concerned about.
I begin to apply the spray tan from a short distance away. The spray will feel cold on your body. The entire spray process should take no more than ten minutes. You then step out, stand to dry for a few minutes and then dress carefully in loose clothing before heading for home where you will shower off the base colour 6 to 8 hours later. You may leave the base colour on for longer if you wish but this is unlikely to give a different or stronger effect.
What do I need to do before I have a spray tan?
It is YOUR responsibility to prep your skin before a spray tan. This includes exfoliating drier areas, shaving legs etc and moisturising your skin BUT NEVER EVER ON THE DAY OF YOUR TAN. Please do this at least 24 hours before you visit us.
Moisturise the day before but again NOT on the actual day as this will cause a barrier. Ensure that ALL moisturisers, deodorants etc are then washed clean from your skin and please note that....
I CANNOT BE HELD RESPONSIBLE FOR YOUR MISTAKES
Allow all previous sunless tans to fade for 7 days prior to new application
Do not shave or wax on the day of your treatment, especially with shaving foam
Remove all make-up, perfumes, moisturisers and deodorants prior to your treatment
Wear loose, dark clothing and flip flops or loose sandals
Wear old, dark underwear as tan cannot always be removed from light colours
And finally please avoid sunburn as I cannot spray over burnt or peeling skin
And what about after?
You will need to wear the guide tan for 6 to 8 hours before showering off
Try to avoid wearing or sitting on light fabrics (and leathers) for a few hours after your treatment
Do not wash your hands for at least 4 hours after having a spray tan
Do not wear tight clothing
Do not shave for at least 12 hours, and again avoid shaving foams
Be careful with your choice of shampoo as cheaper all in one brands can occasionally streak your tan. 
Do not exercise or swim until the day after your spray tan however remember that chlorine can affect false tan so I do not advise that you do so if you really need your tan to last
Please try not to touch your skin while the tan is developing as you will stain your fingers and palms...however if this happens you can exfoliate it away gently with a fine pumice or foot file or remove it with an exfoliator.
And finally....
To look after your tan:
PLEASE PLEASE DON'T GET CAUGHT IN THE RAIN WHILST YOUR TAN IS DEVELOPING. I CANNOT EMPHASISE HOW IMPORTANT THIS IS!! BRING A BROLLY AND SOME SENSIBLE CLOTHES TO COVER UP. ONCE AGAIN...I CAN NOT BE HELD RESPONSIBLE FOR YOUR ERRORS ONCE YOU LEAVE THE SALON!!
Apply moisturiser morning and evening after your tan
Pat skin dry after showering....do not rub
Take care when exercising as heavy sweating may cause your tan to fade
Avoid long hot showers and baths and also avoid swimming pools and hot tubs
Avoid all Dove hair and body products as these contain oils which can strip your tan also certain anti-aging products may have a negative effect (We recommend Nivea or Palmers Cocoa Butter as a moisturiser)
Remember that your tan can also be affected by hormonal changes ie pregnancy, menstruation, breastfeeding etc.
How long will my tan last?
With care it should last at least one week I am regularly hearing from clients who have had ten days and longer. Obviously everyone's skin is different and much of it is down to your daily routine....but.....Nouvatan really is AMAZING!!